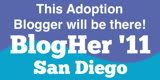 Do you blog about adoption? Are you headed to the
BlogHer conference
in San Diego this summer?
We want to know
!
We're gathering a list of any and all adoption bloggers who will be there, to help us find each other. I'd hate to head home only to find out I had missed my chance to meet one of you! So
add your name to the list
and grab a badge for your blog.
(Since there is often bloggy crossover, just wanted to point out that there is a list going for
special needs parenting bloggers
, too.)