The bloggers below all (a) write about adoption and (b) are headed to BlogHer 2011 in San Diego this August. Find a friend! Plan a meet-up!
Will you be there, too?
Add your name to the list
! Button codes are at the bottom of this page if you'd like a little something for your blog.
OPEN ADOPTION BLOGGERS
BUTTON CODES: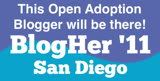 <a href="http://www.productionnotreproduction.com/p/adoption-bloggers-at-blogher-2011.html"><img src="http://i305.photobucket.com/albums/nn230/heatherpnr/OABlogHer.jpg" alt="Adoption Bloggers @ BlogHer 2011" title="Adoption Bloggers @ BlogHer 2011" border="0"></a>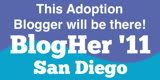 <a href="http://www.productionnotreproduction.com/p/adoption-bloggers-at-blogher-2011.html"><img src="http://i305.photobucket.com/albums/nn230/heatherpnr/ABlogHer.jpg" alt="Adoption Bloggers @ BlogHer 2011" title="Adoption Bloggers @ BlogHer 2011" border="0"></a>