Tidbit the first: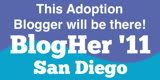 If you write about adoption and are headed to the BlogHer conference this August, don't forget to
add your name to the growing adoption blogger list
! This will be my first time going to BlogHer. I have no idea what kind of madness it is trying to connect with people or if there is even a snowball's chance of accidentally bumping into someone, but I'm really really hoping I get to meet as many of you who'll be there as I can. It's always fun to put faces to (screen)names.
Tidbit the second:
I did a couple more book reviews for the BlogHer Book club that you can check out if you're so inclined.
The first
was for for Geraldine Brooks' new novel,
Caleb's Crossing
. My mom and her friends are all abuzz about this book right now.
In the early seventeenth century on the tiny island now now known as Martha's Vineyard, twelve-year old Bethia Mayfield is growing up cloistered in a small pioneer settlement. Alone on a beach one afternoon she encounters Caleb Cheeshahteaumauk, son of the leader of a local Wampanoag band whose lands are shrinking as English settlers press in. Across a language divide and against strict societal mores, the two strike up a secret friendship that spans a lifetime.
The second
was for Jean Kwok's debut novel,
Girl in Translation
:
As anyone who speaks more than one language knows, something subtle always changes in the process of translation. Languages are so filled with symbolism and culture that a text can never be exactly duplicated in another language; every word choice brings with it the possibility of losing something of the original tone or meaning, or of inadvertently adding something new. And so it is with Kim as she shifts between her different worlds every day, morphing into different versions of herself at school and work and home. In each context she is Kim, but Kim translated: subtly different, with something lost and gained with each successive decision about how to present herself.
The BlogHer Book Club
opened up its waiting list
this week to everyone this week--you don't need to be part of their publishing network anymore to participate. It's a really well-run review program, so I thought I'd share the word with any of you book-lovers out there.